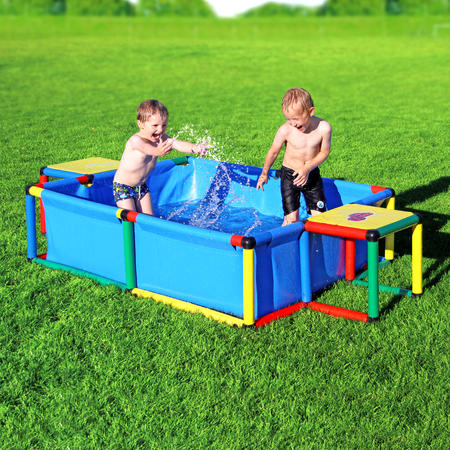 POOL L
11670
2.45 × 1.25 × 0.45 m
The QUADRO Large pool is perfect for playing and splashing. The pool liner is very sturdy and is installed using a frame made of QUADRO tubes and connectors. The pool can be filled with water, balls or sand and can be used over many years.
The POOL L can be combined with the QUADRO Ball Cage (11040) to provide a large sun-protected pool house including netting to prevent balls from falling out. Or you can turn your backyard into a water park by combing the Pool with a giant Construction kit and slide.
Thanks to the QUADRO PLUG-IN system it's easy to dismantle the slide again and bring the POOL L indoors and use it as a ball pit.
Details
External dimensions: 245 x 125 x 45 cm
Internal dimensions: 165 x 125 x 45 cm
Water level: max. 35 cm
Ball capacity (Ø 60 mm): max. 2000 (4x 12600)
Age recommendation: 36 mo+
Easy to assemble/disassemble
UV Stabilised / UV Resistant
Environmentally friendly / recyclable
Made in Germany
Includes
Construction Handbook
Safety Instructions / Tips
Safety
Use under the direct supervision of an adult
Caution: While disassembled, small pieces can be a choking hazard to children under 3 years
Caution: There is a risk of drowning
Free of PVC, BPA and PAH