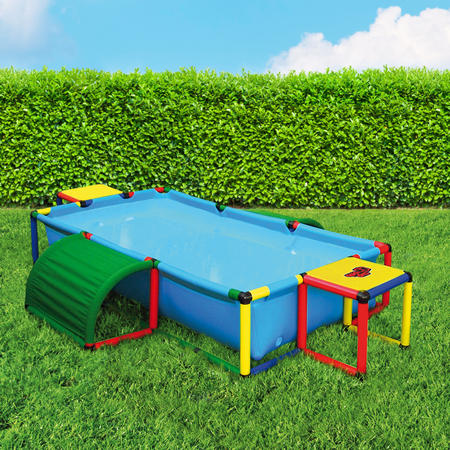 QUADRO POOL XXL the largest in the range. Like its smaller brothers, it contains a fiber-reinforced, professional pool liner that is supported by a total of 6 aluminum profiles and 4 aluminum profile extensions on the side. The aluminum profile extensions which are concealed from view within the tubes.
The POOL XXL also has side tunnels giving it an imposing look and make it an eye-catcher in any garden.
In addition to the visual qualities, the POOL XXL is the only one of the QUADRO POOLS that is also suitable for combination with the Integrated Slide.
Designed and engineered with the children playing experience in mind, you can combine the QUADRO POOL XXL  with Giant Construction Kits,  and a slide to create your very own water park!
In autumn / winter, you dismantle the slide and bring the POOL XXL into the house and use it as a ball pit – thanks to the PLUG-IN system from QUADRO, this is done quickly and again and again.
Details
External dimensions: 325 x 125 x 45 cm
Internal dimensions: 245 x 125 x 45 cm
Water level: max. 35 cm
Ball capacity (Ø 60 mm): max. 3000 (6x 12600)
Age recommendation: 36 mo to 10 years
Easy to assemble/disassemble
UV Stabilised / UV Resistant
Made in Germany
Environmentally friendly / recyclable
Includes
Construction Handbook
Safety Instructions / Tips
Safety
Use under the direct supervision of an adult
Caution: While disassembled, small pieces can be a choking hazard to children under 3 years
Caution: There is a risk of drowning
The pool should be emptied when not in use
Free of PVC, BPA and PAH
No short-chain chlorinated paraffins (SCCPs), heavy metals (Pb, Cd)