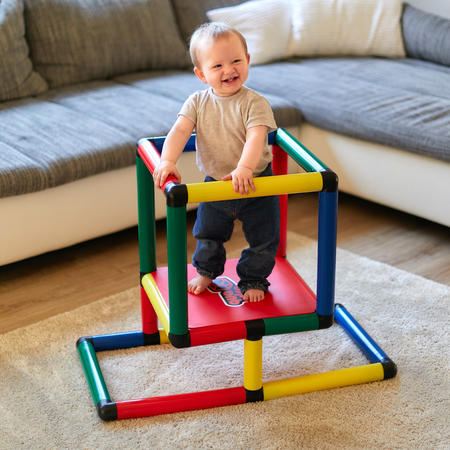 Build a foundation through learning and play
Especially created for young children, ages 6 months to 2 years, the many designs created from Beginner encourage safe and creative play, and are excellent for helping to develop a toddler's fine and gross motor skills. Initially, these skills might be as simple as trying to stand, sit, turn, or grasp.
For example, the My First Tiny Playhouse with Climbing Platform pictured here shows how a child can use this design to pull himself to an upright position, and then eventually learn to climb onto the 9" (25 cm) platform. Both parent and child gain great satisfaction from each success.
The safe and child-friendly Quadro components are rounded, with no sharp edges. The top surfaces of the panels are slightly textured for added non-slip safety. 
The simplicity and versatility of Beginner provide parents with many creative options to help a child explore and progress from crawling to taking his first steps.
Parents will be pleasantly surprised as to how quickly children adopt Quadro as their very own, huge, personal toys. While having fun, toddlers develop confidence and delight in each achievement.
This easily assembled giant construction toy, consisting of 116 parts and 24 designs, can be set up virtually anywhere. And to keep play interesting, it can be effortlessly converted from a climbing pyramid to a playhouse to a lookout tower.
As the child gets older and needs newer and more complex challenges, other construction and play options can be found in Quadro's Model Database. These designs may require the purchase of additional parts or kits.
One small kit, one giant experience
One of our latest developments is the "learning tower". It is a re-configurable platform allowing toddlers to view or participate in activities that require a height boost. Now they can feel much more involved in some of the parents' daily activities, for example in the kitchen where they are at countertop level. A waist-high railing provides toddlers additional security from falling.
*The following learning towers can be assembled with Beginner kits purchased from 2019 onward.
Quadro's modular construction system makes the assembly of the various Beginner designs fun, quick and easy. There are no complicated blueprints, no sawing, drilling or trips to the hardware store. Everything needed is included in the Beginner kit.
For over 40 years the Quadro "cube" has been the basic building block, from the simplest to the most complex structures. This design provides not only the stability of a relatively large footprint, but also easy access from all sides – the perfect formula to meet the growing needs of tots and toddlers.
In addition to providing unparalleled versatility, Quadro components are easy to maintain. They can be cleaned on a regular basis by using ordinary liquid or spray household cleaners and disinfectants.*
*Do not use harsh or abrasive chemicals.
Quadro realizes that young children do not want to miss out on life's many adventures. Parents are encouraged to integrate the use of the learning tower and its variations into everyday life. New achievements, discoveries and adventures become more fun when they are shared between children and their parents.
Many other exciting learning and play designs can be made with Beginner. As a child's agility and balance develop, additional parts and accessories such as slides may be added to further improve motor skills, and to expand a child's creative and imaginative world.
Highlights
Safe, thermoplastic, solid color components
All tube parts are rounded and easy to grip
All panels have slightly textured, non-slip surface
Use indoors or outdoors
Odorless, stain resistant, easy to clean
Age appropriate dimensions
Easy access – open or closed configuration
Stable and sturdy
More options, on the double!
By combining two Beginner kits it's possible to build:
By combining two Beginner kits it's also possible to add Quadro slides. You can build the Tower and Curved Slide or the Tower and Modular Slide.
And Beginner can be combined with other Quadro construction kits, accessories or bundles to let this unique modular construction system grow with your child!
For other construction ideas, please visit the Quadro Model Database.