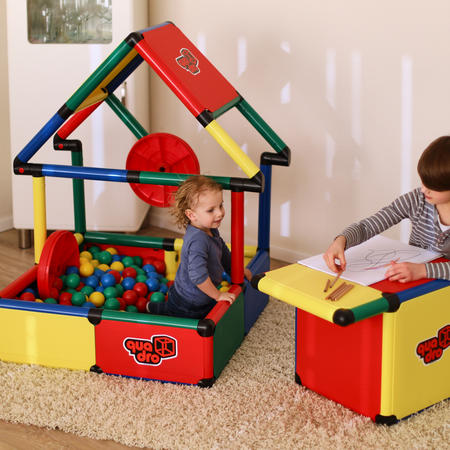 EVOLUTION + 500 Balls
14084
Combine your EVOLUTION (14080) with 500 Balls and you get the perfect playpen for your young child.
Light, colorful balls with a diameter of 6 cm, perfect for a ball bath. Delivered in an assortment of blue, green, yellow and red.
With EVOLUTION, children will find themselves in their own little universe where boundaries will be tested and dreams will come true.EVOLUTION includes features such as slides, ramps, play pens and more. It is perfect for toddlers from only 6 months up to 24 months. As a jungle gym it provides children up to 48 months with advanced climbing and movement opportunities. The Model Database shows you exactly which age group each EVOLUTION design is ideal for.
Details
Age recommendation: 12 – 48 months
Easy to assemble
Expandable & Re-configurable
UV Stabilised / UV Resistant
Made in Germany
Environmentally friendly / recyclable
Includes
QUADRO Model Construction Handbook
QUADRO Safety Instructions / Tips
Safety
Use under the direct supervision of an adult
Maximum weight capacity: 100 kg
Caution, small parts! There is the danger of swallowing and thus risk of asphyxiation
Free of PVC, BPA and PAH