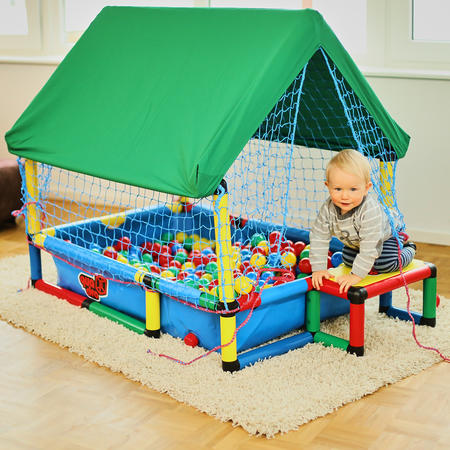 Transform your POOL S into a completely enclosed ball pit or sandbox with the QUADRO Baby Ballcage. A textile roof provides shade on sunny days.
The QUADRO BABY BALLCAGE has a sturdy roof structure around which a net is stretched keeping balls from easily getting out. Children can let off steam without a variety of toys being scattered all over.
We recommend ordering the QUADRO BABY BALLCAGE together with 500 BALLS (12600), enough to fill POOL S.
Details
Dimensions: 145 x 85 x 116 cm
Recommended age: 12 to 36 months
Free of PVC, BPA and PAH
Environmentally friendly / recyclable
Made in Germany
Includes
Construction Handbook
Safety Guidelines
POOL S and balls sold separately
Safety
Use under the direct supervision of an adult
Maximum weight capacity: 100 kg
Caution: While disassembled, small pieces can be a choking hazard to children under 3 years