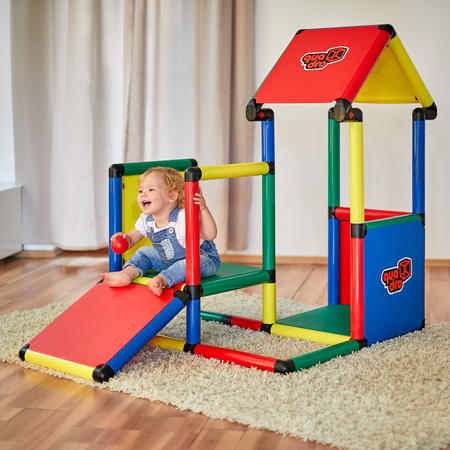 Make Learning Fun
The greatest adventure of our lives is childhood. It is a unique time in which everything is new. And it is a time where play and learning go together. We developed ADVENTURE with that in mind. By expanding on the well-researched, age-appropriate features of BEGINNER and EVOLUTION, we came up with creative designs that provide exciting opportunities for children aged 6 months to 4 years.
ADVENTURE is an early child development product. It encourages little ones to train their basic motor skills like crawling, standing and walking. Once they've mastered these, ADVENTURE can be adapted to a higher level of difficulty, challenging children to climb, balance and use their strength.
Containing 220 components, ADVENTURE also includes an assembly manual with numerous creative designs from which to choose. The kit's interchangeable parts can be combined with other QUADRO construction kits, expansions or bundles. These exclusive combinations allow this unique modular construction system to grow and expand with the rapidly changing needs and developmental skills of each child. To see more design ideas for ADVENTURE, visit the QUADRO Model Database.
Learning Towers
Children are natural learners. They enjoy trying to imitate adults and participating in family activities. To promote that process, ADVENTURE offers a selection of learning tower designs for children aged 18 to 24 months. This can allow a small and curious child to participate in safe and simple learning experiences with a parent. Encourage good hygiene by brushing your teeth with them at the bathroom sink. Or teach them to clean up after a meal by bringing their own dishes to the kitchen sink. These are just some of the learning tower experiences that can help kids to observe, participate in and acquire good daily habits.
Learning Tables
ADVENTURE includes instructions for assembling various types of children's desks, like the Learning Cube and Toddler's Play Desk and Chair. These are great for creating artwork, making crafts or doing homework. They are designed for toddlers aged 18 to 24 months, but can be used by children up to 8 years of age.
Learning by Play
Children play in different ways. Some are more active while others are more passive. ADVENTURE offers designs that fit both. The Play Corner Cottage is perfect for kids that enjoy playing house. But if they want to climb the house instead, they can! The Toddler Climbing Frame is a good choice for kids who frequently need to blow off excess steam before bedtime. But if they want to throw a blanket over it as their hideout, they can! All the ADVENTURE play designs can be enjoyed by all types of kids.
8 Panels
The ADVENTURE kit comes with 8 panels which allow for the construction of cozy, safe, low-level enclosed play areas for children aged 6 to 12 months. The panels can also be used to make small ramps and other age appropriate play platforms.
Special Component: Double Tube Connector
The unique double tube connector makes it possible to create a baby ramp as part of an ADVENTURE design. It's recommended for tots over 12 months old. Depending on how comfortable the child is with heights, a ramp length can be 18" or 33" (45 or 85 cm).
Includes
Safety
It is recommended that you supervise your child during assembly, as small parts such as screws may cause suffocation. Do not leave your child unattended even when the construction kit is assembled to avoid unintentional swoops. QUADRO products are intended for private use. Our construction kits are extremely robust! However, you should leave the climbing to your children, even if fun is tremendous.
Tube weight capacity: 100 kg long term
Panel weight capacity: 50 kg long term, 100 kg short term