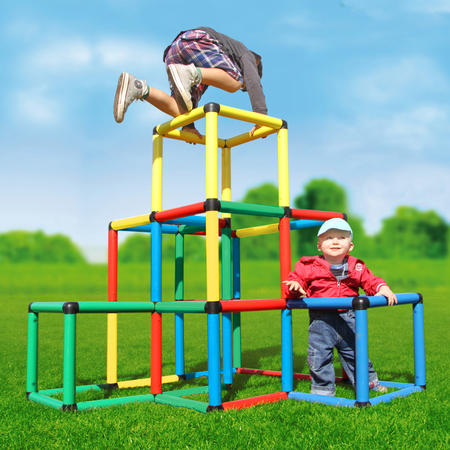 Even More Climbing Fun!
You would like to combine a slide with the CLIMBING PYRAMID? No problem! Choose your favorite slide, whether it's the Modular, Curved or Integrated Slide — whatever fits your needs best. Find relevant design recommendations here: QUADRO Model Database: Climbing Pyramid
Featuring numerous Different Designs
Pimp Your Pyramid!
The UPGRADE KIT for the CLIMBING PYRAMID — now available!
Pimp your CLIMBING PYRAMID and make it even better! The current version of the Upgrade Kit includes 10 Panels 40 x 40 cm, 16 tubes 15 cm, double tube connectors and much more. The Upgrade Kit is ideal if you want to build step designs with a 15 cm height, popular with children under 3 years of age.
Make more of it with a slide!
Transform your CLIMBING PYRAMID into the ultimate slide design with a second baby slide and 20 cm high baby steps. The combination of MODULAR SLIDE or CURVED SLIDE and the small baby slide (85 cm) is especially ideal if you are looking for a slide design for different age groups.
The Mega Upgrade Kit with slide and pool!
How about a completely cool design that provides refreshment on hot days? Save yourself the stressful visit to the water park and turn your CLIMBING PYRAMID  into your own water slide! Of course you can also use the pool separately as an indoor ball pool or as a huge sandpit.
With QUADRO the next play idea lurks only one coupling :) further. And so the water slide model also has an 85 cm long baby slide for our little ones.
Many more combinations are waiting for your creativity!
Climbing Pyramid with Curved Slide
With QUADRO, the next game idea is just one addition away. All QUADRO slides have a water hose connection and can be mounted on QUADRO pools. It is even possible to connect a CURVED SLIDE with a MODULAR SLIDE to form a double slide!
Climbing Pyramid with Modular Slide
Or combine your CLIMBING PYRAMID with the QUADRO classic, the MODULAR SLIDE. Of course you can remove the MODULAR SLIDE at any time to use the original idea of the CLIMBING PYRAMID. The disassembly and reassembly works as often as you want thanks to QUADRO's PLUG-IN system!
Combine two Climbing Pyramids to make the Super Climbing Pyramid!
If you would like to combine two CLIMBING PYRAMIDS, just build the Super Climbing Pyramid for extremely long-lasting climbing fun. This combination, like everything from QUADRO, easily be extended with slides. Assembly instructions can be found in the QUADRO Model Database.
Two Climbing Pyramids with Upgrade Kit and Curved Slide or Modular Slide
If you have two climbing pyramids and your child is looking for new adventures after a year of growing motor skills, just rebuild your model and combine it with the Upgrade Kit and the Curved Slide. The result is a truly extreme climbing frame with slides, either for the garden or indoor play area.
The double slides from QUADRO for the mountain climbers!
The QUADRO double slides give you unique fun. Two slides are combined to double the slide length to a height of 165 cm!
During the development of the Modular and Curved Slide in the 90s, we created the basis to be able to combine both slides with each other. Our goal was to provide unique play possibilities to an age range of 6 months to 8+ years by reusing existing QUADRO designs in a new form.
This reusability only works if the quality is high, as there can be more than half a decade between purchases. This is also one of the core differences between QUADRO and the common disposable climbing frames, which become boring and take up space after a few months.
The double slide feature works perfectly with the CLIMBING PYRAMID!
More about the QUADRO double slides in the QUADRO Model Database.
Bring the Playground Home
The jungle gym is back — right in your backyard! The Quadro Climbing Pyramid is the most convenient way to keep your child engaged in healthy, active play. Choose from a selection of construction designs, each offering its own unique climbing experience.
Healthy
There are few other toys that develop your child's gross motor skills while being fun at the same time. Each construction design focuses on improving balance, stamina and strength. No backyard should be without one!
Durable
The colorful multi-level designs are made of a durable framework using Quadro's signature component: the 35 cm (14 in) tube. The structures are stable, giving children the confidence to climb. 
Creative
With 236 parts to choose from, older children will love coming up with their own ideas. Creativity, problem solving and logical and critical thinking are just some of the benefits of a construction toy.
Expandable
The easy to use Quadro plug-in system allows you to adapt to your growing child's needs. The Climbing Pyramid can be combined with any other Quadro kit or accessory to keep things interesting. Some of the popular expansion choices include adding a second Climbing Pyramid, the Upgrade Kit or a Panel Set L. For more construction ideas, visit the Quadro Model Database.
Details
Age recommendation: 12 mo+
UV Stabilised / UV Resistant
Environmentally friendly / recyclable
Made in Germany
Includes
Model Construction Handbook
Safety Instructions / Tips
The CLIMBING PYRAMID is exclusively supported by the QUADRO Model Database (MDB)
Safety
It is recommended that you supervise your child during assembly, as small parts such as screws may cause suffocation. Do not leave your child unattended even when the construction kit is assembled to avoid unintentional swoops. QUADRO products are intended for private use. Our construction kits are extremely robust! However, you should leave the climbing to your children, even if fun is tremendous.
Tube weight capacity: 100 kg long term
Panel weight capacity: 50 kg long term, 100 kg short term