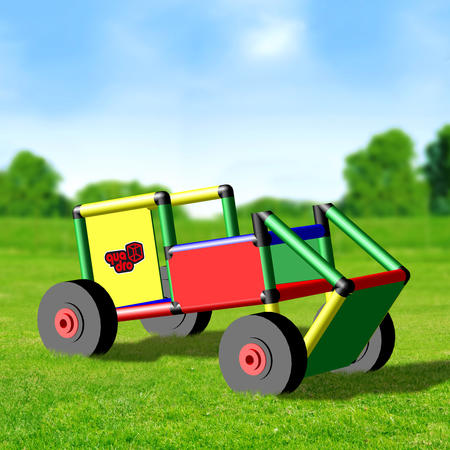 Rough it with QUADRO!
Building QUADRO vehicles is easy with OFFROAD! This large construction kit contains 279 components including a multimedia CD-ROM and four special All-Terrain wheels. Thanks to the intuitive QUADRO system, vehicles can be freely designed and changed over and over again. Of course you can also build the proven QUADRO climbing frames, ramps or castles with OFFROAD.
Details
Recommended age: 12 months to teenager
UV Stabilized / UV Resistant
Free of PVC, BPA and PAH
Recycling class 5 and 2
Made in Germany
Includes
Handbook
Safety guidelines
Multimedia CD-ROM
Safety
It is recommended that you supervise your child during assembly, as small parts such as screws may cause suffocation. Do not leave your child unattended even when the construction kit is assembled to avoid unintentional swoops. QUADRO products are intended for private use. Our construction kits are extremely robust! However, you should leave the climbing to your children, even if fun is tremendous.
Tube weight capacity: 100 kg long term
Panel weight capacity: 50 kg long term, 100 kg short term