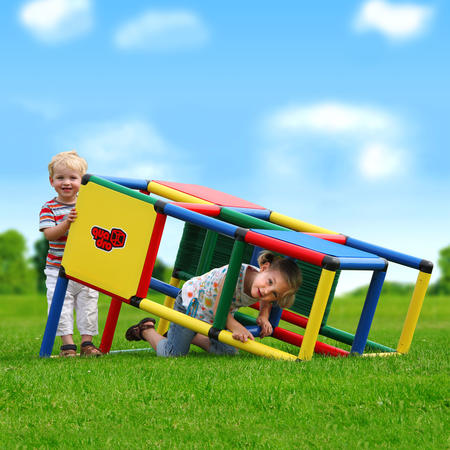 Discover the world of QUADRO with the STARTER Kit!
The STARTER Kit consists of 200 parts with numerous model designs to build. It is a great introduction to QUADRO, providing children the opportunity to exercise their creativity and imagination, as well as their bodies.
Children and adults alike can design, plan and build together, creating models such as a climbing frame, cubby house, play theatre, shop counter and cavern.
Bundle the STARTER Kit with a MODULAR SLIDE or a CURVED SLIDE and save money!
Plan and create full size QUADRO models in small scale with the miniQUADRO STARTER.
Details
Age recommendation: 12 mo+
Easy to assemble
Expandable & Re-configurable
UV Stabilised / UV Resistant
Made in Germany
Environmentally friendly / recyclable
Includes
Model Construction Handbook
Safety Instructions / Tips
Multimedia CD-ROM
View example constructions via the QUADRO MDB (Model Database)
Safety
It is recommended that you supervise your child during assembly, as small parts such as screws may cause suffocation. Do not leave your child unattended even when the construction kit is assembled to avoid unintentional swoops. QUADRO products are intended for private use. Our construction kits are extremely robust! However, you should leave the climbing to your children, even if fun is tremendous.
Tube weight capacity: 100 kg long term
Panel weight capacity: 50 kg long term, 100 kg short term