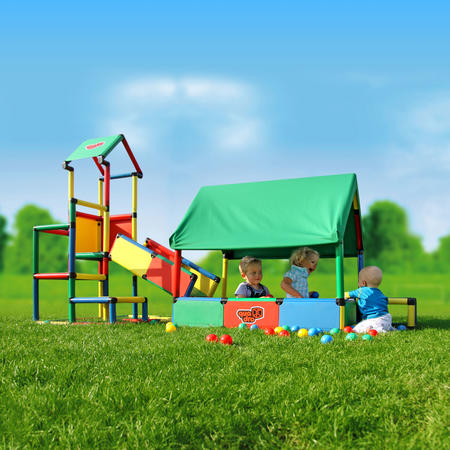 The Ultimate All-Rounder
The QUADRO ULTIMATE kit is the result of many customer requests for a Giant Construction Kit with steps of only 20 cm high and therefore suitable for children from one year old.
The ULTIMATE kit offers an incredible range of model designs, from a baby ball cage with baby slide to a fully enclosed knight's castle, which can be filled with balls.
During the course of childhood, the ULTIMATE kit can be adapted to build designs that offer a second level of child development, e.g. for children from the age of three with advanced motor skills.
The ULTIMATE kit includes 712 components including special parts such as the QUADRO Baby Ball Cage (00011), the QUADRO Aluminium Profiles (40276) and the QUADRO Double Pipe Connectors (00955) for the construction of the baby slide and ramp. The ULTIMATE kit is a true all-rounder in the QUADRO product range, always transformable and adaptable to all age groups. It's our all-round, luxury, feel-good play equipment package.
Astonish your kids by combining the ULTIMATE kit with a Modular, Integrated, or Curved slide to make the ultimate dream! By combing with your favorite slide there are almost no limits to the design options and fun. You can create the ultimate dream by combining the ULTIMATE (16699), Slide and POOL L (11670). The POOL extension provides a great way for kids to cool down during the summer. Turn your backyard into an ultimate play paradise where your kids can let off steam to their heart's content!
Details
Age recommendation: 12 mo+
Easy to assemble
Expandable & Re-configurable
UV Stabilised / UV Resistant
Environmentally friendly / recyclable
Made in Germany
Includes
Model Construction Handbook
Safety Instructions / Tips
Safety
It is recommended that you supervise your child during assembly, as small parts such as screws may cause suffocation. Do not leave your child unattended even when the construction kit is assembled to avoid unintentional swoops. QUADRO products are intended for private use. Our construction kits are extremely robust! However, you should leave the climbing to your children, even if fun is tremendous.
Tube weight capacity: 100 kg long term
Panel weight capacity: 50 kg long term, 100 kg short term