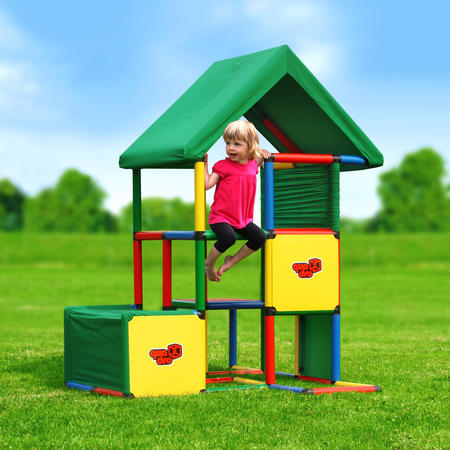 The QUADRO UNIVERSAL Kit – infinitely creative!
The UNIVERSAL Kit contains 369 parts and a variety fo different model designs. Special features of the UNIVERSAL Kit are two round textiles and a textile roof, which are great for creating enclosed spaces like cubby houses and caves. A castle, sledge, shop front, climbing frame or even a cupboard for a child's bedroom – you can build all this and much more with the UNIVERSAL Kit. Kids are limited only by their imagination!
As with all QUADRO play equipment, the UNIVERSAL Construction Kit is incredibly versatile and provides fantastic opportunities for active play indoors and outdoors.
Bundle the UNIVERSAL Kit with other QUADRO products and save money!
Plan and create full size QUADRO models in small scale with the miniQUADRO UNIVERSAL.
Details
Recommended age: 12 mo+
Expandable and re-configurable
UV stabilized and resistant
Environmentally friendly and recyclable
Free of PVC, BPA and PAH
Made in Germany
Includes
Safety
It is recommended that you supervise your child during assembly, as small parts such as screws may cause suffocation. Do not leave your child unattended even when the construction kit is assembled to avoid unintentional swoops. QUADRO products are intended for private use. Our construction kits are extremely robust! However, you should leave the climbing to your children, even if fun is tremendous.
Tube weight capacity: 100 kg long term
Panel weight capacity: 50 kg long term, 100 kg short term