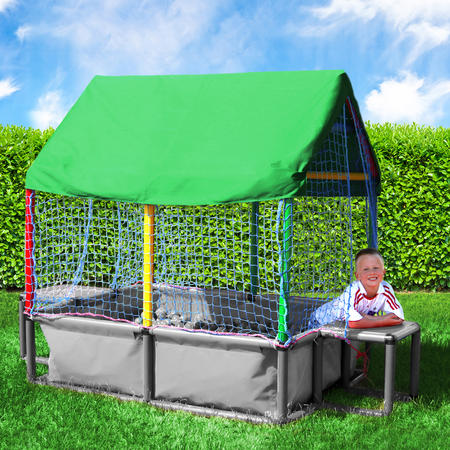 Keeping the fun inside!
With the BALLCAGE you can transform POOL L into a completely sealed ball pit. It has a stable QUADRO structure with a textile roof. The sides are covered with a net, keeping the balls in and letting the steam out!
You will need approximately 2000 balls to completely fill POOL L.
Details
Dimensions: 245 x 125 x 181 cm
Recommended age: 12 mo
Free of PVC, BPA and PAH
Environmentally friendly / recyclable
Made in Germany
Includes
Tubes, connectors and screws
1x Roof Textile (00010)
1x Net (10233)
Construction Handbook
Safety Guidelines
POOL L and balls sold separately
Safety
Use under the direct supervision of an adult
Maximum weight capacity: 100 kg
Caution: While disassembled, small pieces can be a choking hazard to children under 3 years